$10 Million Liability Insurance
Safety Leadership at rapid
Rapid's fleet is currently comprised of 4 Heavy Wireline units, 6 Picker units, 1 High Pressure Swab rig, and a 6.7 cube, 282 psi P-Tank. Our trucks are equipped with .125 – .140 stainless sour service. We have three crew trucks on hand as well. Rapid is available to meet your needs 24/7.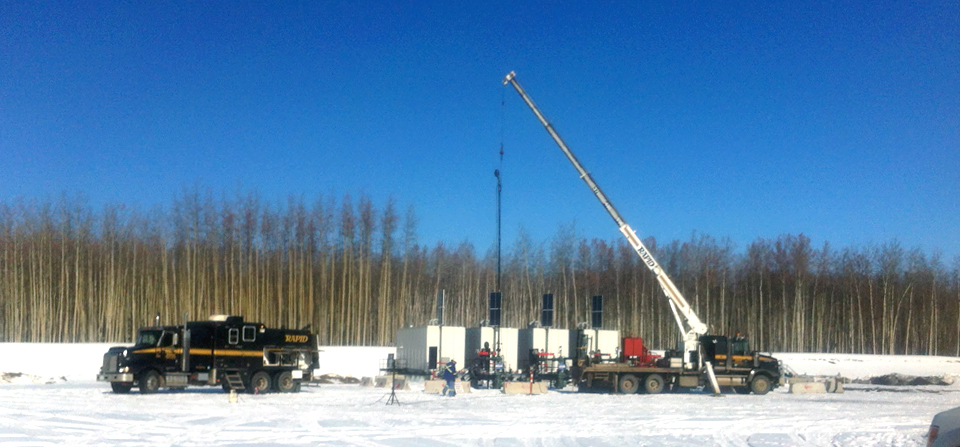 Rapid Wireline Services Ltd has been providing Wireline service to the oil and gas sector in northern BC and Alberta for over 40 years.
Rapid continues to be a leader in this industry by being recognized for its strong commitment to health, safety and the environment. We are members of ISN, Comply Works and are committed to continually upgrading our program to adhere to BC and Alberta OH&S standards and have incorporated them into our COR and Safety Program. Further to our commitment, Rapid Wireline ensures that all employees are trained in all aspects of the Wireline business and hold current industry safety tickets.
Company Philosophy & Vision
Rapid Wireline Services Philosophy is that by providing a fair, safe and honest atmosphere all will benefit resulting in a stable and prosperous environment for the company and its employees.
It is important for all employees to share in our vision to be the leading wireline service company in Northern British Columbia.  Management will strive to deliver any knowledge to our employees and together this will enable us to stay a leader in our industry.
All our heavy vehicle drivers hold either a valid Class 3 or Class 1 driver's license. We have 17 full time employees. All field staff possess valid H2S Alive, First Aid, WHMIS, TDG and CSO certificates. Picker operators are certified by CraneSafeBC or its equivalent.
Rapid's personnel are fully experienced in all types of Wireline operations including Otis, Baker and Camco down hole equipment, fishing, swabbing and bottom hole pressure work.
DIAGNOSTIC FRACTURE INJECTION TESTING (DFIT)
Rapid Wireline is able to meet your needs for long term data recording with intrinsically safe surface gauges that are able to measure and log casing and/or tubing pressure / temperature ranging from 0-15,000 psi, temperature.
Pressure Range: 270 psia Pressure Accuracy: 0.040 % full scale or ±0.11 psi (0.744 kPa)
Safety Philosophy
Rapid Wireline Services Ltd. believes that management and employees are responsible for demonstrating safety leadership. The management at Rapid Wireline Services strives to provide a safe work environment for our employees, clients and the public. We continually promote safety as well as protection of the environment as part of our core values.
Safety Manual
Rapid Wireline Services Ltd has a comprehensive Safety Program including a Drug and Alcohol Policy. Copies are available on request.
Workers Compensation
BC Account # 235835
AB Account # 3657331
Rapid Wireline Services Ltd carries $10,000,000.00 Liability Insurance. Insurance Certificates available on request.
DEFINITION of DISTRICTS
Northern Area Rates
All Locations north of the Sikanni River up to the Northwest Territories.
Southern Area Rates
All locations south of the Sikanni River to the United States Border.
Rapid Wireline Services Ltd has WCB coverage in British Columbia and Alberta. Confirmation of coverage may be obtained as requested.
WIRELINE SERVICE CHARGES
Servce charges include mileage and use of RAPID's personnel and/or equipment. When it is necessary to transport RAPID's equipment by means other than its own power due to road or whether conditions, standby rates will commence at hourly rates upon arrival at place such as transportation begins. Transportation and equipment used for transportation will be customer's responsibility. RAPID's personnel will exert their best efforts to perform work requested but results not guaranteed.
WIRELINE TOOLS AND SPECIAL WIRELINE SERVICES
Charges commence when equipment or tools leave our office and continue until returned to our office. When required, additional charges will be made to restore tools or equipment to the condition existing prior to usage. Transportation costs of equipment incurred as a result of customers specials desires may be charged back to customer. When special equipment must be required from sources other than Rapid Wireline Services Ltd the usage charges will be third party charges.
EQUIPMENT LOST IN OPERATION
If RAPID's personnel are unable to recover RAPID's equipment used in servicing the customers well a charge shall be made for the lost equipment. Upon recovery of said equipment if in general use by RAPID, it may be returned for full credit, less cost, if any of reconditioning.
STAINLESS STEEL LINE
If the event of damage or breakage of stainless steel line resulting from conditions beyond RAPID's control a charge for the line will apply to the customer.
10703 – 87 Avenue
Fort St. John, BC
V1J 5P7